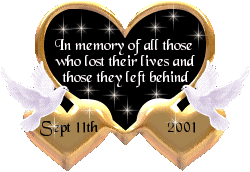 In memory of September 11, 2001
Welcome to my Fun Battles Spirit Page of Gifts
Fun Battles is a competition I began in December 2001
I had plans for lots of individual teams at the time I met up with an old vote exchange friend who offered to become my partner & we did alot of thinking & came up with 4 teams with 2 subteams per team which will grow to 4 subteams per team
We are trying to make this one of the most voter friendly competitions on the internet as well as a fun competition to be in.
We have Friendship Fairies who are the Heart of Fun Battles. They go around & invite sites to join us, they do their best to only invite sites not competing on other competitions. They also inspect our members sites for safety and spread cheer throughout our competition. They are alos the ones who are there for our members who may be sick, depressed or suffered a loss in their family.
We also have Little Angels who are the soul of Fun Battles they go around spreading cheers & encouragement in member's guestbooks, as well as vote for our members.
And we have our newest group Battle Buddies who help our new members understand how the competition workds as well as help new members find support while giving their buddies a vote everyday.
and our Spirit Sprinklers we get to do is pamper 1 to 4 of our fighters, yes we do! Each week we get to Spoil'em rotten!! Sign their guestbook, vote for their site,
send e cards, adopt something for them, you name it the sky's the limit!!
Fun Battles no longer has teams but rather Levels, all new members begin in the Basement, of they qualify they get to go up the elevator to the 1st floor, where they compete for points, 4 of those highest scorers move up to the 2nd floor, thenn the 3rd & finally the Penthouse
Members sites do not need to be geared towards 1 theme here for we compete at different themes in each level.
About Fun Battles
About Fun Battles & About the Teams